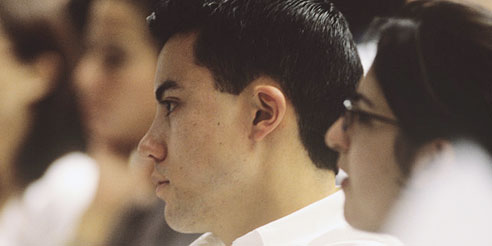 Some key quotes for concerning formation within the Church. Christian faith and theology require a philosophy capable, independently of faith, of reaching the existence of God and discovering the meaning of man's existence. Any formation or evangelisation which presents only faith and Revelation is like an eagle with one wing.

"I am thinking too of those responsible for priestly formation, whether academic or pastoral. I encourage them to pay special attention to the philosophical preparation of those who will proclaim the Gospel to the men and women of today...  I ask everyone to look more deeply at man..."
Pope John-Paul II, Fides et Ratio, n.106-107
"In our times... it is absolutely necessary to return to First Philosophy in its own right, given the fideism which has impregnated the intelligence of some believers today.  The encyclical Fides et Ratio demands of us a renewed search in philosophy, and one which returns to the source of philosophy, and which enables theology to truly renew itself and to develop in a more profound and more ultimate way... It is now necessary to take St Thomas' assertion seriously; philosophy is a wisdom, and one which touches the mystery of God by its own means.  The truth is that positivism and fideism are two forms of the glorification of subjectivity.  Positivism is a kind of scientific triumphalism in which man promotes himself to be the measure of reality by means of his knowledge.  In fideism the critical perspective comes first; in asserting that the intelligence has been destroyed by sin and that faith alone touches truth we make of ourselves the very judges of faith, for such an assertion is not in accordance with the Church's teaching.  The Church maintains that the intelligence is capable by itself of discovering the truth and the existence of God."
Fr Marie-Dominique Philippe, o.p., Returning to the source, Forward.
"Reason is a whore, the greatest enemy that faith has; it never comes to the aid of spiritual things, but more frequently than not struggles against the divine Word, treating with contempt all that emanates from God."
Martin Luther